Valve releases Steam for Linux: Save on all linux games!
Info:
http://store.steampowered.com/news/9943/
Feb 14, 2013–Valve, creators of best-selling game franchises (such as Counter-Strike and Team Fortress) and leading technologies (such as Steam and Source), today announced the release of its Steam for Linux client. In celebration of the release, over 50 Linux titles are now 50-75% off until Thursday, February 21st at 10 AM PST.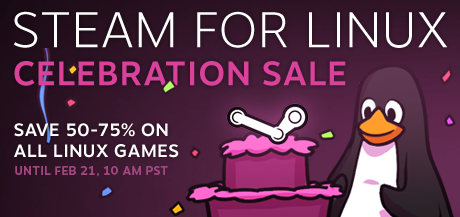 http://store.steampowered.com/sale/linux_release/
SAVE ON ALL LINUX GAMES UNTIL FEB 21, 10AM PST
.
--- Professional experience ---
Kernel designer, engineer, maintainer and tester for
ROSA Desktop
and
OpenMandriva Lx
O.S.
--- currently I'm playing with ---
LTS Kernels > Linux 4.1.12-nrjQL <<< Linux 3.18.17-nrjQL <<< Linux 3.14.46-nrjQL
EOL Kernels > Linux 3.19.8-nrjQL <<< Linux 3.17.8-nrjQL <<< Linux 3.15.10-nrjQL
Amministratore

Posts: 4737
Joined: 6 December 2007, 19:54
---
Users browsing this forum: No registered users and 37 guests