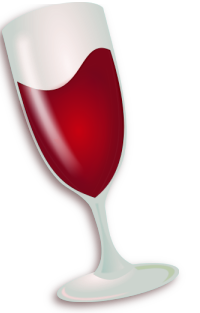 Wine 1.5.31 per Mandriva Rosa2012.1 e Rosa2012.0lts.
Nuova release per il "non-emulatore" di windows.
Home: http://www.winehq.org/

Quello che c'è di nuovo in questa versione di sviluppo:
The Wine development release 1.5.31 is now available.

What's new in this release (see below for details):
  - New version of the Gecko engine based on Firefox 21.
  - Joystick force feedback support on Mac OS X.
  - Window management fixes in the Mac driver.
  - Various bug fixes.

----------------------------------------------------------------

Bugs fixed in 1.5.31 (total 54):

   4742  Message handling in dlls/user/edit.c may crash programs
   7338  powdercell: Rotated fonts only displayed in dot size
   7905  Tool bar icons not all filled in with switcher cad III
  11004  Firefox 2 doesn't bold text, makes gmail harder to use
  12595  Autodesk Revit Architecture 2008 install fails while unpacking AccuRenderRedist
  13013  ProntoEdit NG 2.1.8 tree control shows all labels as ZZZ
  15804  Multiple .NET applications fail to start, reporting exception "Culture name 'ga-ie' is not supported." (support for alternate calendar types needed)
  17383  Chessmaster 10th edition fails to install
  17388  Chessmaster 10th edition crashes after game analyze
  17393  MansionPoker: Closing a poker table or exiting the program makes the application crash with a runtime error
  17739  Cannot start IMatch again after exiting for a while
  18001  Mass Effect Xlib: unexpected async reply
  18252  Error writing file in UnReal World installer
  18746  Starting Everquest 2 in any resolution other than 1024x768 causes a crash
  19836  Hardwar: The screen often goes black in Direct3D mode.
  20060  PDF Factory Pro fails to install
  21148  No$Zoomer crashes when it is started
  23565  FXCM FX Trading Station installer incurs assertion failure
  23755  Everquest 2 demo/Pirates of the Burning Sea installer crashes
  23796  cant' install hwsoliii.exe
  24326  Everquest 2 Extended crashes in DSOUND_PrimaryOpen
  24451  Saira: screen resolution problem
  24630  Everquest 2 Extended - lots of black artifacting
  24843  Explorer++ doesn't show text in the right-click menu for toolbars
  25580  pcad2002 (pcb.exe) fail to start
  26024  Alien Hallway demo: updater crashes during install
  26583  Assassin's Creed Brotherhood: crash after "parse_ctab_constant_type Struct not supported yet"
  26751  configure improperly detects Wunused-but-set-parameter as supported on Clang
  27515  explorer http://www.google.com does not work.
  27639  please also implement GPOS feature in indic shaping engine
  27999  ComboBoxEX item images aren't drawn correctly
  28849  LabVIEW 2010: Some DLLs aren't installed at all
  29556  Tiny slider indicators in Audacity
  29625  TreeView item label truncated when made bold
  30029  (FEAR 3 - F3AR)F.E.A.R. 3 Crashes When Setting Full Screen Option...
  30162  Microsoft .NET 2.0 Framework: "mscorsvw" compile worker hangs sometimes while generating native images from assemblies in GAC (loader section block reported)
  30196  Battlezone animation video's cause game not to load
  30992  msxml3 incorrectly ignores whitespaces (needed for Civilization IV)
  31330  +relay corrupts returns values on win64?
  31683  Adobe Photoshop CS4 installer doesn't do anything
  32753  Wallace & Gromit crashes in the launcher (Gecko 1.9)
  32899  Batman: Arkham Asylum (non-steam) Demo - missing text in launcher
  32951  Warlords III demo crashes on exit
  33016  Wine recognizes Geforce GT 630 as Geforce 8800 GTX
  33115  Microsoft SQL Server Management Studio Express 2008 installer fails
  33328  Copy-Paste bug in TAB_SetupScrolling
  33331  When DLL receives PROCESS_DETACH notification when a process is exiting all the threads should be already terminated
  33499  Kingsoft WPS Spreadsheet OK, Write and Presentation failed
  33550  Treeview: redrawing problem when selected item is also focused (TVS_EDITLABELS with blocked edits affected the most)
  33560  libwine doesn't get installed
  33572  Windows Download Integrator 3.x needs IWbemServices::ExecNotificationQueryAsync
  33607  Microsoft SQL Server Management Studio Express 2005: cannot restart SQL server (wbemprox returns stale service status)
  33618  wmi query should support querying Process Name (inside wbemprox)
  33619  [UWIN] UWIN installer fails with cannot seek to data offset

 

Per installare wine32 su mandriva 64 bit occorre abilitare temporaneamente i repo a 32 bit.

Pacchetti :
Progs:



wine-1.5.31-69-mib
wine32-1.5.31-69-mib
wine-devel-1.5.31-69-mib
 
wine64-1.5.31-69-mib
wine64-devel-1.5.31-69-mib
Porting di grissino
Build: grissino.