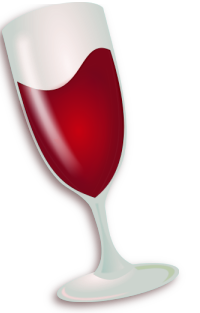 Wine 1.5.25 per Mandriva Rosa2012.1 e Rosa2012.0lts.
Nuova release per il "non-emulatore" di windows.
Home:

Quello che c'è di nuovo in questa versione di sviluppo:
The Wine development release 1.5.25 is now available.

What's new in this release (see below for details):
  - Proper cursor support in the Mac driver.
  - Fixes for right-to-left support in RichEdit.
  - Initial version of a Wingdings font.
  - Various bug fixes.

----------------------------------------------------------------

Bugs fixed in 1.5.25 (total 40):

   5341  SourceInsight: Missing dock button
   8942  Astral Masters no longer gets past start screen
  17130  felix2: The screenmate flashes and doesn't move
  18819  LOK Soul Reaver program error
  19144  QueryContextAttributesW returns wrong return value
  19504  Moedan: Crashes after showing developer's logo.
  19678  Lingoes does not start
  21283  sPlan 7.0: Non properly text rotation
  21856  VB6 modal form appears BEHIND parent (borderless) form when focus is on certain controls, making parent form unusable.
  22227  Wrong grayed picture for disabled vb6 controls
  22551  Multiple .NET apps fail to load riched20.dll into memory (.NET Framework/Windows Forms wants riched20.dll loaded into lower 2GiB address space range)
  22860  Enterprise Architect fails to create a new project or loads an existing one
  23227  G-Police: Page fault on read access
  23986  datetime control SetRange() has no effect, enter big year will cause CTime assert failed
  24669  Civilization V crashes on startup
  26261  Start menu items are not displayed
  26465  Sound Recorder cannot convert audio codec/sample rate, due to 'acmFormatChooseW' missing
  26775  Ace of Spades: Incomplete Sound
  27941  Very slow rendering in sPlan7
  29616  1Password crashes while creating a backup
  31456  Emulating a virtual screen does not work
  31769  windowsx.h macro HANDLE_WM_DISPLAYCHANGE is incorrect
  31987  FindNextFile/DeleteFile loop fails for directories with many files
  32391  Iexplore crashes play.google.com
  32697  Word 2003 crashes on formula edit
  32709  The Testament of Sherlock Holmes crashes at launch
  32743  putty_arm for jailbroken WinRT needs KERNEL32.dll.GetCurrentPackageId
  32798  Memory leak in Path of Exile
  32829  TurboTax 2012 crashes when applying updater preferences
  32846  dxdiag: can't retrieve network info
  32854  Winedbg on ARM: gdb proxy mode lacks support for reading CPSR
  32905  MT4(MetaTrader) crash at start when mpd playing music
  32919  Yarmap causes Unhandled exception: page fault on read access in 32 bit code
  32990  Wine on ARM: relay tracing is broken with entry points having an odd number of arguments, calling into glibc code that makes use of alloca()
  33011  Metatrader4 crashes trying to open message
  33014  Steam enters into an infinite update loop upon opening with wine 1.4.1
  33029  wine-gecko downloads broken
  33063  Rosetta Stone 4.5.5 - RosettaStoneLtdServices.exe crash on start
  33064  Rosetta Stone 4.5.5 - Cannot start lesson: See only a gray box
  33071  Adobe Reader XI not installing
Per installare wine32 su mandriva 64 bit occorre abilitare temporaneamente i repo a 32bit.

Pacchetti :
Progs:



wine-1.5.25-69-mib
wine32-1.5.25-69-mib
wine-devel-1.5.25-69-mib
 
wine64-1.4-69-mib
wine64-devel-1.5.25-69-mib
Porting di grissino
Build: grissino.