FileZilla 3.4.0 per Mandriva 2009.1 e 2010.2.
Client ftp, molto completo e veloce.
Home:
2011-03-27 - FileZilla Client 3.4.0 released
Bugfixes and minor changes:
2011-03-20 - FileZilla Client 3.4.0-rc1 released
New features:
Disabled automatic negotiation of FTP over TLS introduced in 3.4.0-beta1. Will be added in a future version instead
Add checkbox to settings dialog to not save passwords
Add timestamp columns to successful and failed queue tabs showing when the transfers completed or failed
Bugfixes and minor changes:
Fixed infinite loop in TinyXML when loading settings from corrupt XML documents
Parsing MDTM reply now takes seconds into account
MSW: Handling of paths relative to the drive-root in local directory input box
Compatibility with MVS listing containing PO-E type entries
Fix Resizing issues with manual transfers dialog
MSW: Remote file editing did not correctly handle files that were still open
2011-01-09 - FileZilla Client 3.4.0-beta1 released
New features:
Normal FTP connections now always attempt to negotiate secure FTP over TLS
Added option to force use of insecure plain FTP to Site Manager
Kiosk mode option can now also be read from FileZilla.xml, with fzdefaults.xml having priority if setting exists in both files
Bugfixes and minor changes:
Fix memory leak in directory cache
Compatibility with obscure DOS servers using forward slashes as path delimiter
MSW: Horizontal scroll bar in file lists and queue did not appear if changing column widths
Improve text wrapping engine
Screenshot: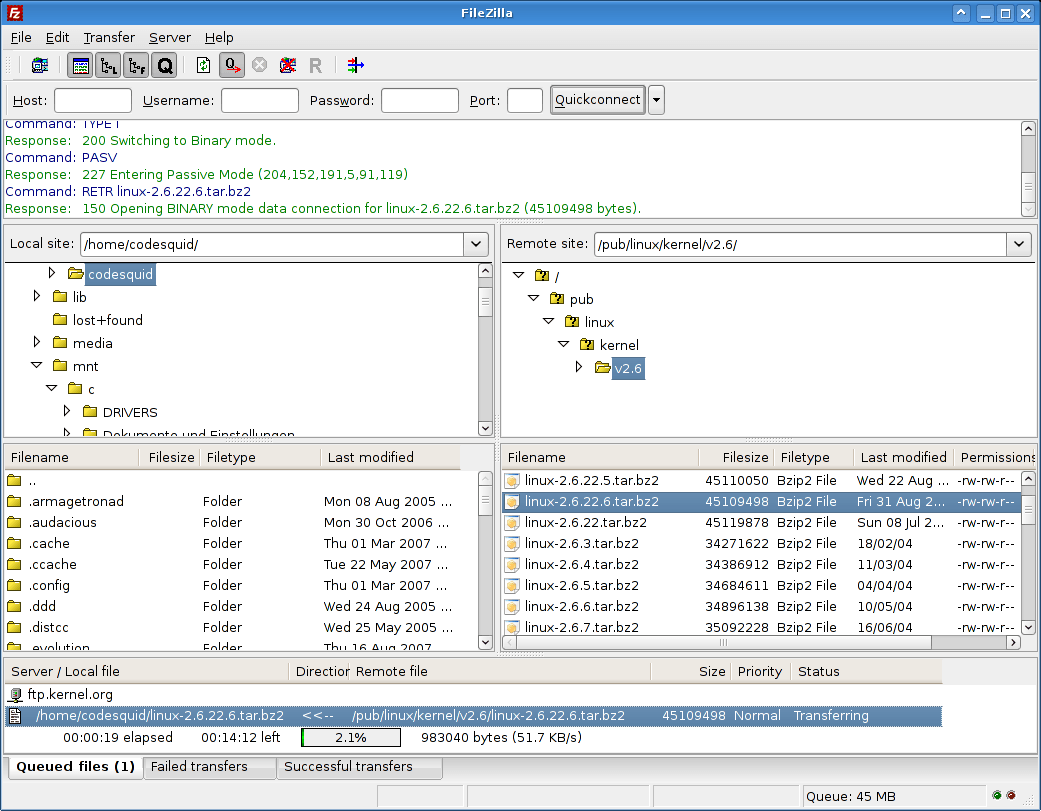 Pacchetti:
Progs

filezilla-3.4.0-69.1mib2009.1.i686.rpm
Porting di grissino.
Preparati da grissino ed othoth-tux.