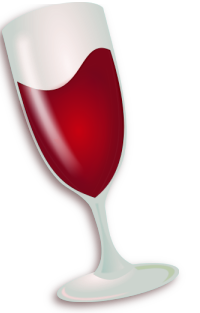 Wine 1.1.33 per Mandriva 2009.1 e 2010.
Nuova release per il "non-emulatore" di windows.
Home: http://www.winehq.org/

Quello che c'è in questa versione:
The Wine development release 1.1.33 is now available.

What's new in this release (see below for details):
  - Gecko now installed at wineprefix creation time.
  - Better support for certificates in crypt32.
  - Improved sound support in mciwave.
  - Some more Direct3D 10 functions.
  - Many cleanups for issues spotted by Valgrind.
  - Various bug fixes.

----------------------------------------------------------------

Bugs fixed in 1.1.33:

   2329  DrawText() with DT_CALCRECT incorrect in MM_HIENGLISH mode
   5395  Windows Vista Upgrade Advisor beta won't install
   6208  Diamond Mind Baseball used to work now does not
   6481  Bada janggi korean chess application hangs
   8436  Port Royale II - Crashes at start-up
   9575  IBExpert need windows native ole32.dll to run
   9682  NVDVD fails to start due to saxxml error
   9856  winecfg freezes when alt+ certain keys are pressed in certain places
   9895  Alzip crashes: Invalid float operation
  11423  Canon Digital Photo Professional (DPP) upgrader crash
  12003  foobar2000-0.9.4.4 status bar not updated
  12074  The conformance tests fail on Windows
  12297  Movie Magic Screenwriter 6: Initialization Error requiring installation of a device driver
  12453  Bad performance in Source based games
  12578  err:mshtml:init_xpcom NS_InitXPCOM2 failed: 80004005 in htmlhelp
  12721  Various cygwin executables fail with Exception: STATUS_ACCESS_VIOLATION
  13029  winetest should make it possible to just extract the individual tests
  13100  Sanitarium - D3D fails to create DIB section and page fault
  13345  Mr Robot: silently fails to start
  13488  pixel shader does not work after update
  13571  Direct-buy & play tool for EA games does not work
  13630  Crash when clearing ie6 cache - needs FreeUrlCacheSpaceA
  13647  DSM Plugin for UltraVNC 1.0.4 Doesn't Work
  13822  Excel 2002/2003/2007 can't save over OpenOffice created files. A "Disk full" error message appears.
  13948  Glossomatheia crashes on startup
  14427  widl crashes in dlls/rpcrt4
  14541  WinExec() fails when starts Unix binaries
  15036  'Gift' game crash with a D3D/OpenGL error
  15060  MCI_WAVE_SET_SAMPLESPERSEC not implimented, patch (needs cleanup)
  15272  Pipes (PeekNamedPipe, NtQueryInformationFile) crash Wine
  15367  "Using help" or "Help on help"  crashes winhlp32
  15421  go.exe does not work
  15469  windows in a virtual desktop only get keyboard focus when the mouse is on them
  15599  S.T.A.L.K.E.R. - no sound with OpenAL
  15706  iphplapi: iphplapi.ok test fails in OpenSolaris but not Ubuntu
  15755  Some applications do not correctly detect administrative privileges
  15839  Games for Windows Live fails to initialize, resulting Fallout 3 crash
  15935  Carbide c++ 1.3 crashes
  16202  Counter-Strike 1.6 makes wineserver run busy
  16688  tests/rsaenh: array size smaller than bound length
  16939  NASA WorldWind renders everything black, unless ran with native oleaut32.
  17034  IBExpert hung up with wine gecko 0.9.0
  17412  oleaut32/tmarshal tests fail with +heap enabled
  18092  Race Driver: GRID - not rendered correctly
  18112  Long time play of Assasine's Creed Ver. 1.02
  18134  Drawing artifact in Lotus Notes 5.0.10
  18139  WineD3D: add version information to DLL
  18168  cmd fails when passing environment variables in a batfile
  18183  Crazy Machines with CD-ROM: no mouse, no exit
  18264  AutoCAD 2008: QuickCalc doesn't show up
  18337  CertVerifyCertificateChainPolicy doesn't implement CERT_CHAIN_POLICY_SSL
  18636  All source games crash on exit
  18711  Digsby pagefaults when accessing Preferences => Skins
  18743  UltraEdit setup: Some text is hidden
  18861  GameZone Downloader: Window is partly blacked-out
  19031  Alpha Centauri failes with GLXBadDrawable/X_GLXMakeCurrent
  19352  Windows Live Messenger 2009 installer doesn't start
  19383  [Monkey Island Special Edition] Version Hotswap does not work
  19391  HxD hides a List
  19450  Notation Composer: toolbar and menu icons missing or white
  19489  WinHttpSendRequest does not support empty string ("") as headers argument
  19490  WINHTTP_QUERY_VERSION not implemented in WinHttp query_headers()
  19878  TrackMania UnitedForever - mouse does not work
  19931  winedbg crashes entering an infinite self-launch loops
  19948  Starscape OpenGL mode - screen stays black
  20160  iexplore: automatic gecko installer crashes
  20201  winetest64 no longer runs on 64-bit wine
  20227  msi: Table Join on two tables that have same (non-join) column name causes only first column data to be returned.  (Affects Visual Studio 2008 Standard Edition.)
  20263  Fifa 09 Demo crash while starting
  20348  Cannot install Mirror's Edge
  20353  chromium ipc_tests.exe fails when KERNEL32.GetQueuedCompletionStatus() hangs on peer disconnect of named pipe?
  20358  chromium's base_unittests.exe fails on RSAPrivateKeyUnitTest.*
  20371  SolidWorks 2008: Installation fails
  20417  Uninstall software list
  20452  Particle Systems' Pog Compiler crashes when outputting debug info
  20477  Dragon NaturallySpeaking MSI installer fails
  20503  ref counting bug in crypt32
  20518  winetest-1.1.32 Can't enumerate test files: 998 after refusing to install Gecko
  20523  Installing Internet Explorer fails due to problem in setupapi
  20567  Uninitialised memory reference in RSAENH_CPImportKey
  20619  chromium's unit_tests.exe's RenderViewTest.PrintLayoutTest fails with FATAL:image.cc(211)] Check failed: rect.x() == 0 (-1 vs. 0)
  20626  Chromium's unit_tests.exe's DownloadManagerTest.TestDownloadFilename fails
  20627  chromium's base_unittests's StackTrace.OutputToStream fails (RtlCaptureStackBackTrace unimplemented)
  20641  Problems loading dispatch and dual types in SLTG TypeLibs
  20642  Installing codecs fails due to insufficient administrator rights

Delle immagini dal sito di Wine: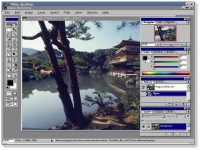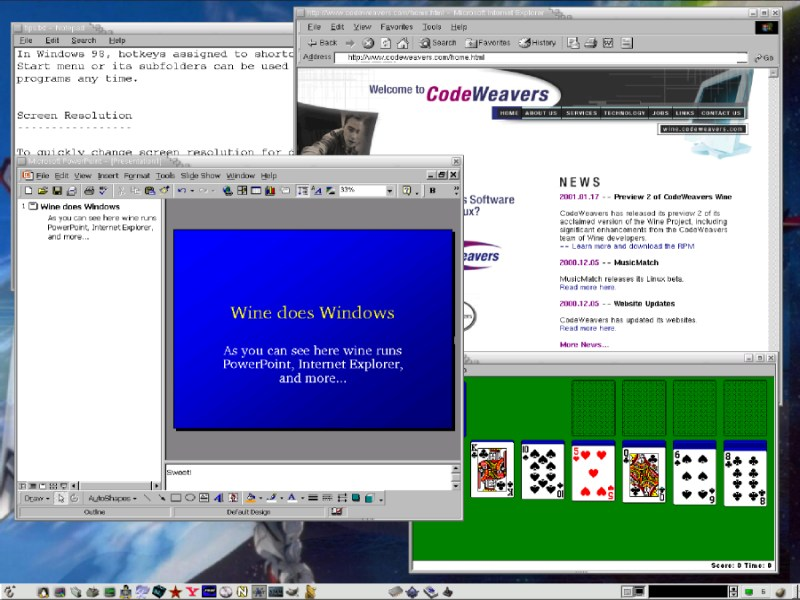 Pacchetti :
Progs

wine1-1.1.33-69.1mib2009.1.i686.rpm
libwine1-1.1.33-69.1mib2009.1.i686.rpm
libwine-devel-1.1.33-69.1mib2009.1.i686.rpm
Wine 1.1.33 - Porting Status
Mandriva
Architettura
x86_64
i686
noarch
2009.1
No
Si

No
2010.0
No

Si

No
Porting di grissino.
Build: grissino e Pulfer.