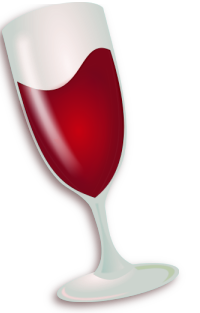 Wine 1.1.25 per Mandriva 2007.1, 2008.1,  2009.1.
Nuova release per il "non-emulatore" di windows.
Home: http://www.winehq.org/
Quello che c'è in questa versione:
Release Name: 1.1.25

Notes:
The Wine development release 1.1.25 is now available.

What's new in this release (see below for details):
  - A ton of translation updates.
  - Support for various Unicode file encodings in Notepad.
  - Improved memory management, especially for OpenGL.
  - Desktop menus now cleaned up automatically.
  - Beginnings of a windowscodecs DLL implementation.
  - Various bug fixes.

--------------------------------------------------------------

Bugs fixed in 1.1.25:

   5720  addr_to_linear Failed to linearize address, etc.
   7229  Using sound in WoW causes a lockup
   7949  Quicktest Pro 8.2 fails to start up
   8690  Display Error with CyclingPeaks WKO
   9256  S.T.A.L.K.E.R. - Major slowdown near anomalies or in high RAD areas
   9944  Cannot active Microsoft Office 2003 Over the telephone
  10277  Uninstalling software does not remove them from Programs menu
  10688  PSP 7.0 installation blows up
  11223  uTorrent 1.8 alpha not working - GetBestInterfaceEx problem
  11492  Perfect world entering world wait infinite
  12492  Farcry on steam does not start
  12615  EVE Online: Space textures are replaced with some other things from video-memory
  13130  Sound in Nightlong only working every couple of starts
  13204  winealsa.drv makes incorrect assumptions about hardware
  13335  Wine virtual memory exhaustion causing OpenGL crashes / slowdowns
  13706  Mankind encounters a page fault on startup
  14000  Everquest2 - unable to find a suitable iPixel Format with ATI
  14012  CodeWright crashes
  14182  Warcraft III: The Frozen Throne installer crashes
  14239  Sonos Desktop Controller: Crashes clicking in the Music Library list
  14555  Tool-tip glitch in The Curse of Monkey Island
  14794  Crash when starting Yahoo Messenger 8
  15484  Respondus Lockdown browser fails to launch
  15534  Dragon NaturallySpeaking 10 crashes occasionally with seh error
  15742  eMule: Missing text in the information box
  16386  FAR crashes with Unimplemented KERNEL32.dll.GetConsoleAliasW
  16827  Secret Maryo Chronicles: Won't install.
  16864  Rendering of main character is wrong
  17253  Luka: exits soon after start
  17318  winemenubuilder fails to create proper menu structure
  17618  winecfg does not set drive type correctly for Local Hard Disk choice
  17706  EVE Premium and Geforce 6200: FPS drops to 0 during Warp
  18006  Mp3tag: Crash when using Tag Sources feature
  18192  Notepad can only save in current locale encoding, should be able to save in unicode
  18208  crypt32.dll.CryptRegisterOIDInfo needed for Microsoft Font Validator (installer)
  18412  Lord of the Rings Online, image upside down and more
  18583  Free Realms crashes with unimplemented D3DXGetDeclVertexSize
  18688  Ventrilo crashes on startup
  18806  3Dmark 2006
  18831  Lord of the Rings Online: Mines of Moria post-processing misplaces objects
  18893  Oblivion installation crashed with an uncought exception
  18953  UFO Aftermath installer exits with error
  18956  Intel Xorg: no more 3D since default OffscreenRenderingMode is fbo
  18980  Canon's CONSOLE Image Control & Storage Software fails on administrator privs check
  18984  Free&Easy Font Viewer crashes on startup
  19002  Postal 2 - graphics problems
  19009  Crosstests don't compile with CROSSCC="ccache i586-mingw32msvc-gcc"
  19014  Casino Club crashes when typing in login-box
  19022  BibleStudyPro: text does not display on screen
  19024  No WM_MEASUREITEM received on LV creation (LVS_OWNERDRAWFIXED)
  19045  winecfg: drive list is not refreshed in winecfg, no more disk label
  19050  PE explorer shows access violations when started
  19055  Various apps quit with "bad file descriptor" error
  19065  3dmark06: shader doesn't compile with arb shader backend
  19069  Nestopia crashes
  19071  Reg.exe doesn't error out on invalid input (appinstall)
  19079  Add multiple files dialog does not work.
  19094  Regression on OS X, may not be able to load dll
  19096  iexplore's gecko installer broken
  19119  Quice.exe program no longer starts
  19126  VS 2005 SP1 installation failure

 
Dellle immagini dal sito di Wine.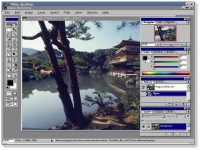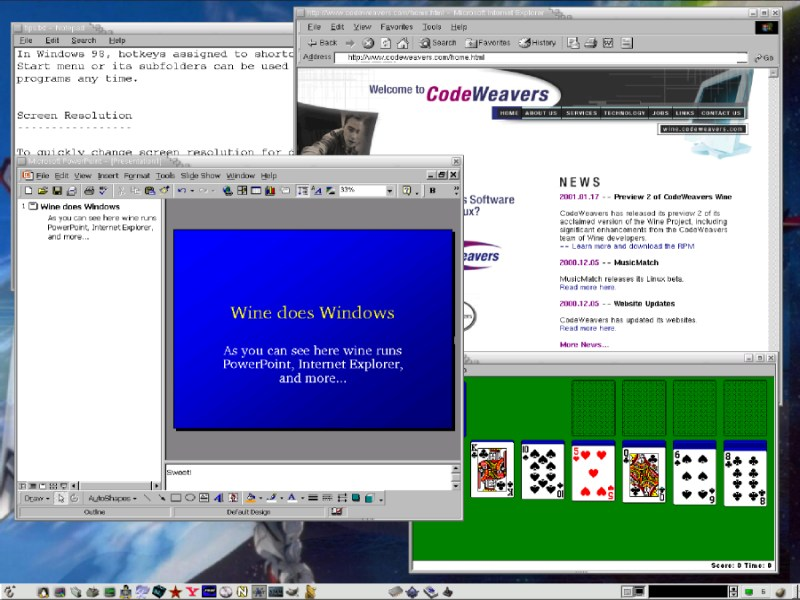 Pacchetti :
Progs

wine1-1.1.25-69.1mib2008.1.i686.rpm
libwine1-1.1.25-69.1mib2008.1.i686.rpm
libwine-devel-1.1.25-69.1mib2008.1.i686.rpm
Wine 1.1.25 - Porting Status
Mandriva
Architettura
x86_64
i686
noarch
2009.1
No
Si

No
2008.1
No
Si
No
2007.1
No
Si
No
Porting di grissino.
Build: grissino ... ...