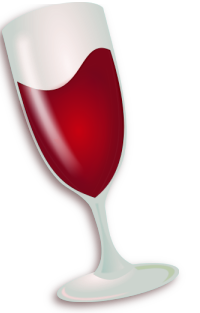 Wine 1.1.24 per Mandriva 2007.1, 2008.1,  2009.1.
Nuova release per il "non-emulatore" di windows.
Home: http://www.winehq.org/
Quello che c'è in questa versione:
Release Name: 1.1.24

Notes:
The Wine development release 1.1.24 is now available.
What's new in this release (see below for details):
-  - Support for freedesktop file associations.
  - Support for exception handling on 64-bit.
  - Improved ARB shaders.
  - Fixes for the FBO mode.
  - Many listview improvements.
  - Various bug fixes.

----------------------------------------------------------------

Bugs fixed in 1.1.24:

   2720  File open dialog crashes in Micrographic designer
   9042  Paradise Poker Client gives black desktop background - bug
  10551  When emulating Sprint-Layout the mouse doesn't catch obejects
  10981  Anti-Grain Geometry GDI Demo does not run
  11030  JIT fails to launch
  11942  Trouble with actor's shadow in "Journey to the Center of the Earth"
  12137  Test Drive: Unlimited slow performance
  12169  Supreme Commander: Black bar obscuring screen when fidelity >low
  12183  EVE Premium 4.10.51200 does not render correctly with shadows on
  12380  Support fd.o file type associations
  12405  Crash at starting WISO Sparbuch 2008
  13266  ArchiCad 11 installer: Crashes after extraction (Java related?)
  13705  keyboard does not work in Trackmania Nations Forever
  13917  Supreme Commander won't let me select high fidelity
  13922  configure script produces misleading warning about libhal
  14767  WGL_SWAP_METHOD_ARB attribute not implemented
  15206  Trouble with symbolic stack dumps and Chromium
  15371  HDR not rendered correctly (e.g. in Rainbow 6 Vegas)
  15377  1.1.5 breaks d3d game that worked in 1.1.4
  15457  Languages dialog is empty in inetcpl.cpl (IMultiLanguage2_GetRfc1766Info)
  15878  Dogfood:  Gimp 2.6 will not open images.
  15925  World of Warcraft: Extreme FPS drop since 3.0.2
  16115  jscript: field with has wrong type
  16195  GetKeyNameTextW returns a wrong length
  16267  Vista Winetest24112008 MSItest loop
  16331  inetcomm: possible null pointer dereferences
  16385  Photoshop CS4 interface doesn't load
  16506  some GUI feedback is needed when wine crashes
  16521  With separate x-screens, windowed applications in the secondary screen are limited to resolution of primary screen
  16609  Wine's XDnD should support text/uri-list lines not ending in \r\n
  16681  Adobe Photoshop CS4 fails to start, complains "Some of the application components are missing..."
  17433  Photoshop CS4 crash in unimplemented function gdiplus.dll.GdipMeasureDriverString
  17437  ATI and EVE Premium: no models display / crashes on startup
  17591  WISO MeinBuero 2009 trial segfaults in wintrust.dll
  17600  MSOffice installer (XP, 2003, 2007) : msi crash in custom action
  17681  mcm2 Help immediately exists (Motocross Madness 2)
  17914  Using \n rather then \r\n breaks HTTP RFC with HTTP_AddRequestHeadersW
  18202  Programs show unhandled exception dialog on every run
  18256  Quicktime 2 Unimplemented function olesvr32.dll.OleRevokeServer on exit
  18516  Goldwave 5.25 File Save dialog no longer has options for file format...
  18610  Quicken 2009 crashes
  18617  Regedit can't import registry from standard input
  18638  .NET 3.0 apps abort with: Call from to unimplemented function GDI32.dll.GdiEntry13, aborting
  18641  Adobe Lightroom 2.3 crashes on unimplemented function gdiplus.dll.GdipCreateHICONFromBitmap
  18735  Photoshop CS4 crash in unimplemented function GdipGetVisibleClipBoundsI
  18736  Photoshop CS4 crash in unimplemented function GdipDrawDriverString
  18742  WoW: Icons under d3d are incorrectly desaturated
  18797  CATIAV5R19: Fails to install on Wine higher than 1.1.18
  18798  Neuro-Programmer v2.5 unable to start
  18809  Dragon NaturallySpeaking 10 no longer installs
  18811  Lexware: wine crashes during .Net 2.0 SP1 Installation
  18824  Thief 3 crashes when starting a new game
  18841  Ghost Recon Installer Crashes
  18882  Allow windows links (.lnk) to be handled by Wine
  18895  Thief 3 crashes on closing.
  18900  Wineserver crashes starting Team Fortress 2
  18915  FAR Manager: crashes shortly after startup
  18916  Thief 2 crashes when bringing up in-game menu
  18925  OS X build broken
Dellle immagini dal sito di Wine.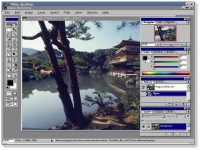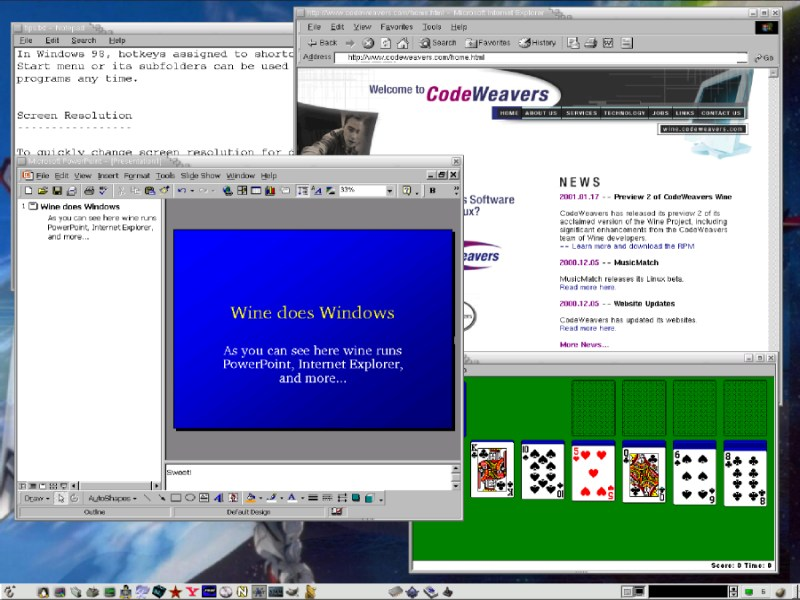 Pacchetti :
Progs

wine1-1.1.24-69.1mib2008.1.i686.rpm
libwine1-1.1.24-69.1mib2008.1.i686.rpm
libwine-devel-1.1.24-69.1mib2008.1.i686.rpm
Wine 1.1.24 - Porting Status
Mandriva
Architettura
x86_64
i686
noarch
2009.1
No
No
No
2008.1
No
Si
No
2007.1
No
Si
No
Porting di grissino.
Build: grissino ... ...