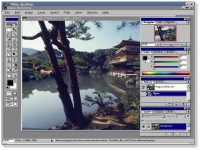 Wine 1.1.22 per Mandriva 2007.1, 2008.1, 2009.0 e 2009.1.
Nuova release per il "non-emulatore" di windows.
Ecco qui una emulazione di Adobe Photoshop©.
Quello che c'è in questa versione:
Release Name: 1.1.22

Notes:
The Wine development release 1.1.22 is now available.

What's new in this release (see below for details):
- More improvements to OLE copy/paste.
- Beginnings of x86_64 exception handling.
- Direct3D locking fixes.
- ARB shaders improvements.
- Better OpenGL pixel format support.
- Various bug fixes.

----------------------------------------------------------------

Bugs fixed in 1.1.22:

7084 Installers/wine fail(s) to extract icons for menu links
7326 Some apps complain "DDE requires ddeml.dll"; just need a link
8349 Lords of the Realm 2 installer fails to complete
8680 Poker Heaven creashes on exit
9366 QuickTimePlayer 7.2.0.240 aborts on unimplemented function gdiplus.dll.GdipCreateRegion
10072 Half Life 2 Reflections reversed on real world reflections option
10449 Broken Cross Disk Manager: Crash at start, needs gdiplus.dll.GdipCreateHBITMAPFromBitmap
10788 Windows Movie Maker needs gdiplus.dll.GdipCreateBitmapFromHICON
12251 Gamma on screen is brighter after application exits
12440 Screen/Graphics corruption in Sammy's Science House
12450 Adobe Acrobat Pro 6 & 7 / Acrobat Reader 6 & 7 -- "Detect and Repair" does nothing (MsiReinstallProduct)
12585 Unhandled pagefault in Return to Castle Wolfenstein
13040 SkyMap Pro: Tip of the Day is a blank window.
13137 inetcpl crashes due to unimplemented function wininet.dll.GetDiskInfoA
13182 Ultraedit v14.00+3 cannot be configured anymore
13201 Microsoft Pinball Arcade jittery animations
13243 Trackmania (Nations) Forever doesn't sometimes work with 3d-glasses
13366 Scarface fails to start due to "unhandled page fault"
13642 dogfood: InterPoker on Linux crashes
13736 Detection of nvidia geforce 9x00 video memory isn't implemented
15468 polygon vertex problems on assassin's creed characters
15762 .desktop files are created in ~, not in ~/Desktop
15923 make test fails in monthcal.c
16021 Provide vista-style symlinks for the profiles directory
16072 DesignaKnit 7 fails to run
16123 WINE and Office progs running in background when they shouldn't be
16363 Google Chrome window is rendered totally black.
16620 Office 2003 cannot install Service Pack 3
16686 Wine's wordpad doesn't allow setting font?
16769 MSN Messenger 7.0 Don't redraw the chat window correctly
16901 bejeweled and bejeweled twist use 100% cpu
16926 Mathematica 7 Player complains "could not establish a connection to the kernel"
17305 PCMark 05 crashes on unimplemented d3dx9_25.dll.D3DXGetImageInfoFromFileInMemory
17470 IP Softphone 2050 doesn't start
17629 unimplemented function setupapi.dll.CM_Locate_DevNode_ExA
17687 vlc 0.9.8a segfaults on launch
17983 WiX fails with builtin msi.dll
17993 winamp's installer shows corrupted checkbox buttons
18044 System Font Linking fails with MS Shell Dlg
18080 Clipboard (Ctrl+V) no longer works in Word 2003/2007
18188 Everest Poker and Casino exit silently with builtin gdiplus
18246 Adobe Updater: crashes when installing updates
18274 Xenocode Virtual Appliance Runtime Error 0xD0000022
18349 Incorrect font rendering in Japanese locale
18395 Garrys mod crashes when joining.
18453 hs950 firmware installer crashes on exit with unimplemented function SETUPAPI.dll.SetupUninstallOEMInfA
18515 Deleting the last entry in the overrides tab in winecfg is not shown correctly
18537 Child windows jump when clicked and dragged by title bar
18555 Dotnet power profile fixmes cause irritation in bash/dash
Home: http://www.winehq.org/
Una immagine dal sito di Wine.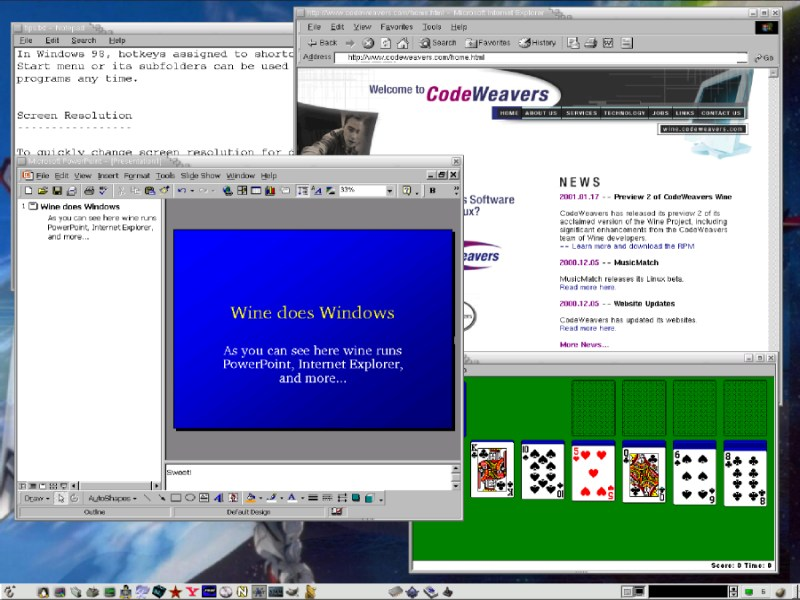 Pacchetti :
Progs

wine1-1.1.22-69.1mib2008.1.i686.rpm
libwine1-1.1.22-69.1mib2008.1.i686.rpm
libwine-devel-1.1.22-69.1mib2008.1.i686.rpm
Wine 1.1.22 - Porting Status
Mandriva
Architettura
x86_64
i686
noarch
2009.1
No
No
No
2009.0
Si
Si
No
2008.1
No
Si
No
2007.1
No
Si
No
Porting di grissino.
Preparati da grissino, NicCo ... ...