Written by rugyada Tuesday, 19 July 2016 14:51
Good news from OpenMandriva Community!
OpenMandriva Lx 3.0 RC1 release is out.


The announcement at OpenMandriva Blog:

A while after Beta2 we are glad to announce OpenMandriva Lx 3.0 RC1 release.
Work for the RC1 has further improved stability and performance. We have now support for the Japanese and Chinese languages so we would really welcome any feedback from those who speak them.
The RC1 brings a number of major fixes:
– i586 release now available
– Install with Calamares now functional so no longer necessary to install through live image
– A longstanding gnupg bug has been fixed.


As usual, you will find a selection of the most popular media players, including mpv, VLC and Plasma Media Center.
Among graphic applications: Krita, ShowFoto and digiKam.
Users already took advantage of one of our latest innovations: the F2FS support, a filesystem designed for Solid State Disks which gives great performance over other filesystems.

Read more at OpenMandriva Blog
For more information please read OMLx 3.0 release notes.
Torrents:
-
---
Join the fun!
Chwido says "woof, woof"
:)
Written by rugyada Monday, 27 June 2016 18:31
OpenMandriva Lx 3.0 Beta2 is here!

The announcement at OpenMandriva Blog:

It was worth waiting for it, we promise! OpenMandriva Lx 3.0 Beta2 is now ready!
Here, check out why:
This second beta has concentrated on improved stability and performance and now, for the first time, has accommodation for the Chinese and Japanese languages using fcitx to support their input methods.


OpenMandriva is a cutting edge distribution compiled with LLVM/clang. Combined with the high level of optimisation used for both code and linking (by enabling LTO) used in its building, this gives the OpenMandriva desktop an unbelievably crisp response to operations on the KDE Plasma5 desktop which makes it a pleasure to use.
The latest release of all the KDE apps is there to support the desktop and help give you a consistent feel.

Read more at OpenMandriva Blog
For more information please read OMLx 3.0 release notes.
Torrents: 64bit
-
---
Join the fun!
Chwido says "woof, woof"
:)
Written by rugyada Wednesday, 06 April 2016 23:02
Finally OpenMandriva Lx 3 Beta1 is out!

The announcement at OpenMandriva Blog:

This BETA1 release is the culmination of over a years effort and offers features that set it at the leading edge of software technology.
The use of the Clang/llvm compiler to generate the majority of the code combined with Link Time Optimisation (LTO) has created and operating system that is fast stable and efficient.


KDE Plasma 5 now runs under the Wayland graphical server which offers smooth and fast graphical rendering. This configuration is experimental.
The lightweight LXQt desktop is available when fewer resources are available. For those who wish to use a gtk based desktop xfce4 may also be installed.

Read more at OpenMandriva Blog
For more information please follow OMLx 3 release notes.
Torrents:
64bit: Torrents link coming soon
-
---
Join the fun!
Chwido says "woof, woof"
:)
Written by rugyada Sunday, 20 September 2015 19:39
Gaming - new arrivals! (more to come :)

For a while we were working on a surprise for you, and here it comes:
OpenMandriva launches gaming page!!
Your favorite games on OpenMandriva? Now - quick and easy to setup and execute.
Our talented and very much playing ;) members created a portal to help you to install and execute most popular Windows Games and Games Platforms - now - in your OpenMandriva Lx!
We used all community forces (Wine, PlayOnLinux and our knowledge) to provide best and easy way to install all of them. We started from most popular games and platforms.
Forget dark commands with a lot of parameters and codes and configurations, you will install simply and quick, using basic linux commands, but most of the time you will need just your mouse.
Already there:
Dota 2, League of Legends, Minecraft, Minetest, Team Fortress 2, Left 4 Dead 2, Heroes of Newerth, Hearthstone, Alien Swarm and Gear UP.
english version:
https://games.openmandriva.org/
pt-br version:
https://games.openmandriva.org/br/
Platforms already included:
PlayOnLinux and Steam.
Next games how-to to be released:
World of Warcraft, Heroes of the Storm, Sword Coast Legends and CS:GO.

Read more at: OpenMandriva Blog
Written by rugyada Thursday, 02 July 2015 10:22
OpenMandriva tribute to Mandrake, The Scion, has been released!

Here is our tribute to our founder and the community he and others created.
"The Scion" is a release dedicated to Mandrake, our ancestor, not lost but living on here:
https://sourceforge.net/projects/openmandriva/files/release/2014.2/
Gaël Duval recently stated:
"I read a lot of sad comments on Twitter about it (the loss of Mandriva) and realized that few of those guys seemed to be aware that actually Mandriva, the company, wasn't doing a Linux distribution anymore for several years. The Mandriva Linux distribution, which earlier forked as PCLinuxOS, Mageia and others, is now OpenMandriva".
(Gaël Duval is the founder of Mandrake ultimately to become Mandriva)
Just as any offering in the Mandrake spirit should be – it's even more stable and it has loads of new fun stuff!
OpenMandriva Scion (2014.2) is a major update release of OpenMandriva Lx 2014.1.
Read more at: OpenMandriva Blog
Downloads:
Written by rugyada Wednesday, 27 May 2015 09:58
OpenMandriva tribute to Mandriva/Mandrake, and announcing new upcoming 2014.2 update release.

Hi there
Good news everyone, a new version of OpenMandriva is ready to see the world in a few days, 2014.2 will soon be making its way to you. Listen out for details, features - and torrents!
OpenMandriva's history is well known. It was born at the tail of 2012 with the help of the community and Mandriva SA to continue the work on the distribution after Mandriva SA could not continue that.
We thank Mandriva SA for their support at the start and wish the remaining Mandriva employees well for the future.
The OpenMandriva Association was created to unite the distribution formally known as Mandriva (aka Mandrake); to bring it back to its roots through listening to peoples needs and getting closer to its users and developers. Since then we have been independent (though we always welcome cooperative effort). We are glad to say that we continue to do this and will be bringing you a new release of OpenMandriva Lx 3 (2015) in the near future that will include new features and an update of many of the core components.
Mandrake was the first distribution to make a free operating system available which could be installed and configured by anyone who could use a keyboard and a mouse. When many of us first came to the "linux" world, there were two types of distro, the ones that gave you headaches as soon as you put the CD in the slot, and then there was Mandrake. The vision of its founder Gael Duval created an operating system which undoubtedly allowed many, many people access to modern technology and in doing so added greatly to the strength of the free software community.
We do and will do our very best to continue to hold and carry their crown - for you.
Always here for you
OpenMandriva

Source: https://blog.openmandriva.org/2015/05/tribute-to-mandrake/
Written by rugyada Friday, 24 April 2015 12:42
Finally OpenMandriva Lx 3 Alpha is out!
Mixing the Ingredients Together - Announcing OpenMandriva Lx 3 Alpha

The announcement at OpenMandriva Blog:

The OpenMandriva Community has been working hard, and after a long period of development and fixes, we're happy to announce the alpha release of OpenMandriva Lx 3 (Einsteinium)!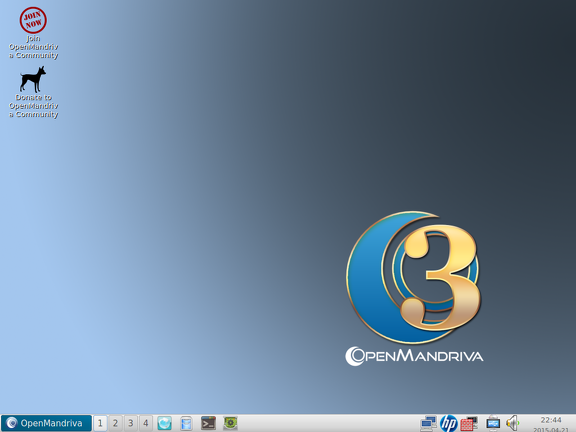 We need your help to test all the little quirks which happen with different hardware! Please download and test the release, and report any bugs you see to our development team so that we can get started on fixing them. Together, we can make OpenMandriva Lx a great project.

Read more at OpenMandriva Blog
For more information please follow OMLx 3 release notes.
Torrents:
64bit: http://downloads.openmandriva.org/torrents/OpenMandrivaLx.2015.0-alpha
32bit: http://downloads.openmandriva.org/torrents/OpenMandrivaLx.2015.0-alpha
More screenshots at
https://gallery.openmandriva.org/index.php?/category/14
You can also find OpenMandriva Lx 3 video at
https://www.youtube.com/c/OpenmandrivaOrg
-
---
Join the fun!
Chwido says "woof, woof"
:)
Page 2 of 5
«
Start
Prev
1
2
3
4
5
Next
End
»